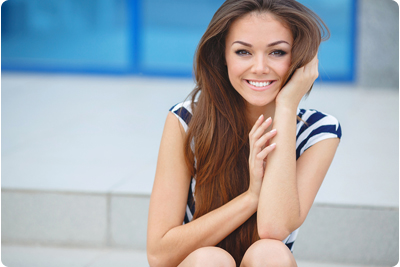 Your smile is one of the first things people notice when they meet you. Even more than a firm handshake, a smile sets the tone for a first impression. Unfortunately, many people are self-conscious of their smiles and reluctant to show their teeth to the world. As the top rated orthodontist in Mahomet, IL, Dr. Shafer knows first hand how important a smile can be. Use these tips from your friendly Mahomet orthodontist to show off your beautiful smile.
Benefits of Having a Great Smile
As humans, a large portion of our communications occur through nonverbal expressions. Smiles are an essential part of this communication. In fact, scientific research suggests that we can tell when another person is faking a smile or not showing genuine emotion. Having a smile you are proud to show off is a critical way of communicating your emotions to others.
Additionally, a killer smile shows your strong confidence. People tend to be attracted — both physically and psychologically — to people who are smiling. Too often, individuals who are self-conscious about their teeth do not project the confident demeanor that will help them succeed. This is true in regular social settings as well as the business environment, where an attractive smile can help you get ahead in your career. Fortunately, your Mahomet orthodontics office can help you achieve the smile you have always wanted.
How Good Dental Hygiene Can Help You Achieve the Smile of Your Dreams
A great smile begins with good dental hygiene. Dr. Shafer, the top Mahomet orthodontist, recommends the following strategies to improve your smile:
Brush and floss daily. Sure, you know that you should be brushing and flossing, but do you do it regularly? Make sure you brush at least twice per day and floss at least once. Use a toothbrush with soft bristles to avoid wearing away the enamel on your teeth.
Avoid sugary drinks and snacks. Sugary beverages are one of the leading causes of tooth decay. Steer clear of soda, sports drinks, or fruit juices, which can be laden with excess sugar. If you do drink these beverages, swish with water or mouthwash immediately afterward to prevent the sugars from attracting bacteria that cause decay.
Watch out for coffee and wine. Coffee and wine contain pigments that can stain your teeth. Avoid these beverages to keep your smile pearly white. If your teeth do become a bit stained, ask your Mahomet, IL orthodontist about professional teeth whitening services to keep your smile looking its best.
Use mouthwash. Rinsing with a mouthwash, preferably one with fluoride, will eliminate harmful bacteria and strengthen teeth.
Your smile may or may not be the window to your soul, but it certainly gives an important impression of your personality. Take good care of it with strong dental hygiene practices and by making an appointment with your Mahomet orthodontics office if you feel that you need braces or orthodontic treatment to help you achieve the smile of your dreams.
This information is not meant as medical advice. It is provided solely for education. Our orthodontics office in Mahomet, IL would be pleased to discuss your unique circumstances and needs as they relate to these topics.
---
About Shafer Smiles
Mahomet, IL's Favorite Orthodontist Specializing In Braces And Invisalign
Dr. Shafer, Mahomet, IL's favorite orthodontist offers a variety of braces and orthodontic solutions to give you the best smile ever. This includes traditional metal braces, Invisalign, Invisalign Teen, clear braces, and Damon Smile braces.
Call 217.586.2030 today to schedule an appointment at our Mahomet, IL orthodontics office. Get the smile you've always dreamed of with Shafer Smiles!